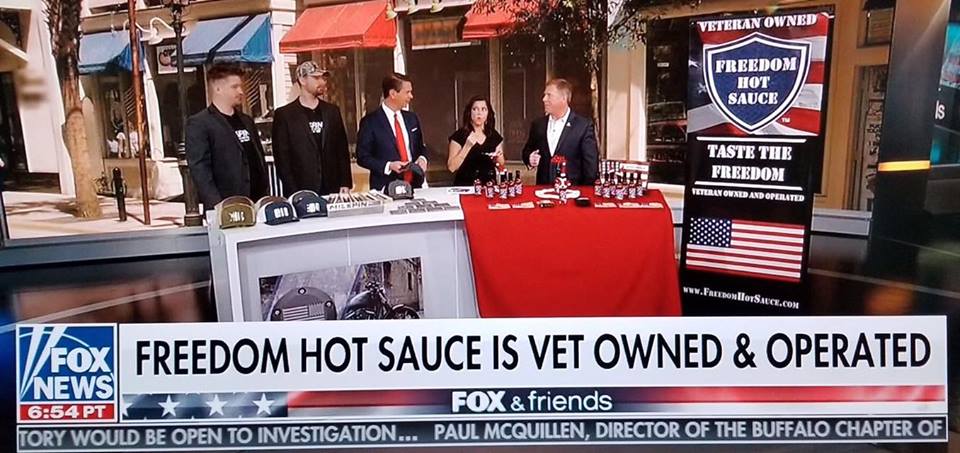 VOB Spotlight: Freedom Hot Sauce
My name is Mark Corwin and I am a Veteran of the Marine Force Recon community. 
I have always been a "foodie" and have been somewhat of a serial entrepreneur in the food industry.  My most recent business is Freedom Hot Sauce.
The idea for the hot sauce came from having a refrigerator full of junk hot sauces that are just vinegar and heat and if you tried to cook with them all the flavor would disappear. 
I decided it was time to create my own.  That's when Freedom Hot Sauce was born.  I mixed different flavors and ingredients. 
The Original has a mesquite, smoke, lime, and garlic aftertaste. It is very thick which makes it absolutely perfect for cooking with. I started with sending Freedom to many of the brothers I served with and asked them to post on social media to help promote it.  
Fox News (Fox & Friends) did a segment on Freedom Hot Sauce which turned out to be great for branding.  The volume went up dramatically and so I introduced three more flavors and a wing sauce. 
Very quickly it went from making my own sauce because I was tired of the junk sauces into a full blown business that ships Freedom across the nation.
Freedom Hot Sauce has also given me the opportunity to continue to give back to the Veteran Community.  We sponsor Veteran Service Organizations (VSOs) across the country.  From sponsoring golf tournaments to sending disabled Veterans on fishing trips, we do what we can to help.  
Freedom Hot Sauce's flavors are absolutely fantastic and are perfect for every meal and snack.  They are the perfect combination of heat and flavor without taking flavor away from your food. 
Click the image below to get your own bottle!